Coolant leak
A failure of the header tank T-piece caused a coolant leak.
<![if !vml]>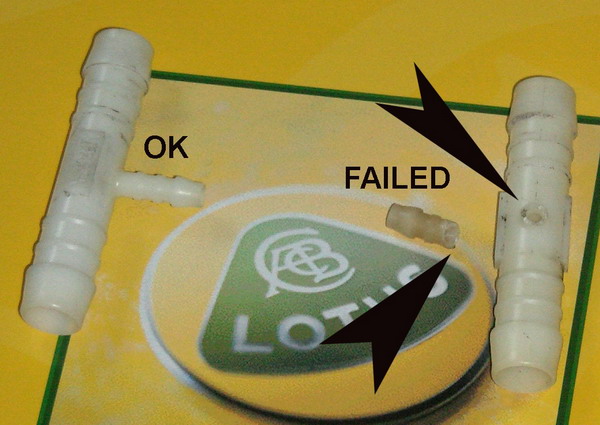 <![endif]>
Indeed Technical Service Bulletin 16 (TSB-16, below) indicates that this part should have been replaced.
TITLE
Replacement of header tank 'T'- piece.
REASON
Improved durability.  Since introduction of the 'revised wiring harness' and associated changes to the cooling system in December '93, a small number of failures of a coolant 'T'- piece have occurred The 'T`- piece is located beneath the white plastic header tank (right hand rear corner of engine bay}, and connects the chargecooler air bleed hose into the header tanks main hose. Failure of this part (breakage of the small bore take-off results in loss of coolant, and illumination of the low coolant tell tale, but prompt action is required by the driver to switch off the engine before overheating damage occurs.
ACTION

 
Due to the high potential inconvenience to the owner, and any consequent loss of confidence in the product, dealers are requested to contact all known customers with 'revised harness' years in the following VIN range, and arrange an early appointment for rectification work to be carried out.
VIN 
RHD S4:          R 1250 to R 1451
LHD S4:          R 1242 to R 1449
USA S4:          R 1248 to S 1469
Sport 300:       R 8030 to R 8050
EXCEPT
the following VIN serial numbers which cars have been updated at the factory:
1260,1267,1348,1359,1360,1362,1364,1368,
1370,1371,1372,1375,1376,1381,1383;1388,
1389,1407,1408,1410,1412,1413,1415,1437,
1438,1445,1450,8042,8043,8044,8048,8049.